by Oasis Wellness Partners on May 2, 2019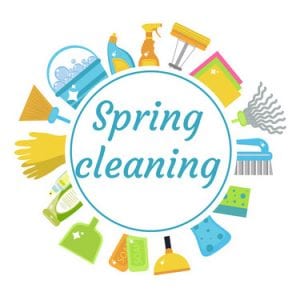 It is Spring, and that means a lot of us are doing our Spring Cleaning. But how many of us are cleaning using conventional products that are full of chemicals and fragrances? Not very clean, is it? How would you like to try making your own all-natural cleaning products? It is easy, it is money-saving, and it is healthy and so much better for your body. Here are some recipes and ideas so you can make your Spring Cleaning truly clean! Note: Many of these cleaning products use the same ingredients! Here's a list of ingredients you'll use over and over: Baking Soda, Liquid Castile Soap, Essential Oils and White Vinegar.
RECIPES:
All-Purpose Cleaner: Pour 1 cup of white vinegar, 1 tablespoon of baking soda, ¼ teaspoon of liquid Castile soap, 20 drops of sweet orange essential oil (to cut grease) and 10 drops of essential oils (optional) into a clean, clearly labeled spray bottle. Then add 2 cups of cool water. If you have a funnel, use it here. Seal the top and gently shake to mix before each and every use.
Carpet Deodorizer: Pour baking soda into a jar with a top, stopping about an inch below the lid. Now add 10-20 drops of your favorite essential oil or a teaspoon of ground cinnamon or cloves, and screw on the cap without the holes. Shake your mixture well. Swap the cap for one with holes punched in it and sprinkle the powder onto your carpet. Allow it to sit for 15 to 20 minutes, and then vacuum. Nice!!
Dusting Spray: Use another clean, labeled spray bottle. Mix ⅓ cup of water, 8 drops of your favorite essential oil and ½ tablespoon of liquid Castile soap in a small spray bottle (4 – 8 oz.) This spray will work on any furniture, but be sure to test it on a small area first.
Furniture Polish: Mix equal parts fresh-squeezed lemon juice and white vinegar in a bowl. Dip the corner of a clean cloth in the bowl and rub a small amount of the mixture into your furniture. Wipe clean with a dry cloth. Or you can pour ¼ cup of white vinegar into a small container and add a couple drops of olive oil. Gently shake the container, dip a clean cloth in the mixture and wipe your furniture with dry cloth. Since lemon juice and olive oil can spoil, we recommend making small amounts for each use but be sure to test it on a small area first.
Glass Cleaner: This recipe is better than Windex! Combine ¼ cup rubbing alcohol, ¼ cup white vinegar, 1 tablespoon cornstarch and 2 cups of warm water in a spray bottle. Shake well and spray. Use old newspaper to wipe it down for a really bright shine.
Toilet Bowl Cleaner: Save a large squirt bottle with a flip cap for this (a shampoo or lotion bottle will work great.) Gently pour ¼ cup of liquid Castile soap, 1 ¾ cup of water, 2 tablespoons of baking soda and 1 teaspoon of essential oil. Shake and squirt when your toilet bowl needs a refresher!
Being Green is easy, cost-effective and better for your health and the health of your whole family. Try one of these recipes today and see how great your house smells and feels! Happy Spring!