by Oasis Wellness Partners on June 19, 2023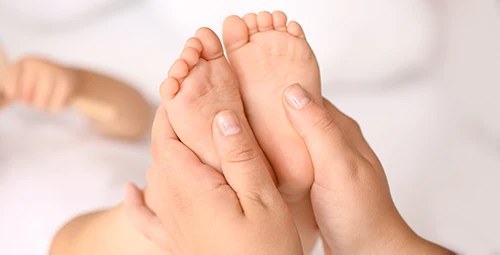 Studies reveal that Reflexology therapy for infants can help improve infant sleep patterns, reduced asthma symptoms, improve oxygen and nutrient flow, and even help deal with hiccups. So, let's help you learn a bit more about this safe and effective positive influence on your infant's quality of life.
Reflexology is taps into different areas of the human body, using specific pressure points on the feet. By applying pressure in highly targeted areas, you will provide your little one with not only the aforementioned benefits, but you can also help him/her with teething pains, tummy discomforts, congestion and more. Your baby's foot is divided into different zones. By applying gentle pressure to certain areas, you will be able to soothe and comfort providing relief from discomforts while bonding with your baby.
There are useful reflexology areas on a baby's foot that will help treat minor ailments. Baby reflexology is based on the theory that different points on your little one's feet correspond with different areas of the body. Seeing the impact that reflexology will have on the babies in your classes will amazes you. Some babies hiccup frequently, and they even do it before they are born. It is caused by lots of things though it is usually nothing to worry about at all, but it will be annoying for your baby if they are trying to nod off to sleep. Further infant massage promotes bonding, growth and much more. It enhances oxygen and nutrient flow to cells and improves breathing patterns and lung health. Reflexology is suitable for people of all ages. It is a gentle way to soothe and relax babies and children. It is one of the most safe and least invasive complementary therapies available.
Reflexology is a non-invasive gentle therapy suitable for babies from birth. Babies and adults will benefit from this therapy that has been used for centuries to bring about healing, balance, and a sense of well-being. Studies have proven that babies improved sleep patterns, reduced asthma symptoms and a greater ability to relax following the reflexology treatment.
For more tips on Reflexology for Baby, contact Oasis Wellness Partners.