by Oasis Wellness Partners on January 11, 2021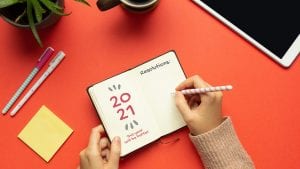 So many of us start the New Year by having high hopes in the form of resolutions: we will eat better, exercise more, sleep more…the list goes on. Often, by even mid-January, we have lost track of our goals. Many of us lose track of shifting new habits because we haven't set up clear goals for ourselves. Here are ways to make those resolutions sticky, and shift your mindset so that you DO stick to them.
Shift Your Mindset—Think of making a new year's resolution as a promise to yourself. When you follow through on a promise, you build trust. Think about your goal, and the why of your goal, in a positive way in order to stick with it. WHY do you want to lose 5 pounds? Did the doctor tell you to? Is it so that your favorite jeans fit better? Make a visual aid to help remind you of your goal when you most need it (the number you want to reach pasted on the fridge, for example). Then break the goal down into manageable steps (drink 3 Liters of water a day, or exercise for 30 minutes a day) and keep a chart to hold yourself accountable. If you are having trouble, try Hypnotherapy in order to retrain your mind to think about the goal in a new, more positive way. "Hypnosis is used to create a state of focused attention and increased suggestibility during which positive suggestions and guided imagery are used to help individuals deal with a variety of concerns and issues." Our resident Hypnotherapist Laura uses gentle, relaxing techniques to allow clients to shift their mindset and reach their health goals.
Focus on your Energy—Moving from the darkness of winter into the light of Spring is a long, slow process. A lot of us can feel lethargic this time of year, which can make goals even harder to attain. Why not focus on increasing, and improving, your energy? Exercising 30 minutes a day, meditation, practicing positive mantras, like "I am full of radiant energy and light, are all great ways to improve your energy. Another great way to improve energy is to experience the healing power of Reiki. Reiki, an energy medicine practice that originated in Japan, heals the imbalances of the subtle energy body to bring ease and balance to the mind and physical body. Our practitioner Kristine places hands on or near the person receiving treatment with the intent to transmit life force energy (KI/CHI).
Reward Yourself for Every Milestone –If you have accomplished a step in your goal (exercised for a consecutive number of days, drank your water goal for a week, meditated every day for 10 days, etc., why not reward yourself with a healthy treat such as a massage or Reflexology? Reflexology is not only profoundly relaxing, it also has amazing health benefits, such as stimulating nerve function, increasing energy, boosting circulation, and eliminating toxins from the body. Moreover, it helps stimulate the central nervous system, prevents migraines, can treat urinary tract conditions, speeds up recovery after an injury or surgery, reduces sleep disorders, and relieves depression and pain. Our Reflexologist Sylvie has had great success with her clients healing a myriad of issues, So, it is great for your health and feels amazing!
We offer all of these services, Hypnotherapy, Reiki and Reflexology, at Oasis Wellness Partners in Scarborough, Maine. We are also offering a free workshop—Rebalancing Body and Soul—at Oasis Wednesday, January 20th at 6:30 pm. This in house offering will also be on Facebook Live (@chirofamilywellnesscenter). Call us to reserve your seat—space is limited to adhere to social distancing and keep everyone safe and healthy. (207) 883-5549.