by Oasis Wellness Partners on December 5, 2019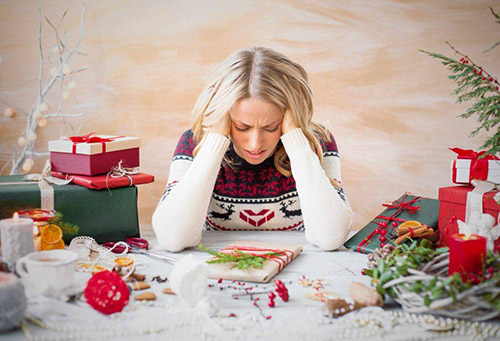 Are you starting to feel stressed and frantic with the holidays approaching? This time of year can be such a burden for those of us who were already struggling to create balance in our lives. Here are 7 ways to feel less stressed and actually enjoy the holidays this year:
Be prepared
Lack of organization can cause a huge amount of stress at any time of the year. But with a little planning and forethought, it can be just fun. What about creating a master document of Christmas card recipients and gift lists? What about creating a personal cookbook of favorite holiday food recipes? Also, creating reminders in your calendar for the things that need to be done far in advance like booking a photographer for your holiday cards or making travel plans can keep last minute details from ruining your holiday spirit.


Say no
Spending time with your loved ones and creating a magical atmosphere is important, but so is your health and sanity. Healthy boundaries can be crucial to an enjoyable holiday, especially if you have children or your family lives out of town. Consider switching off events every other year or do one holiday with your family and another with your spouse's family. Or make certain holidays all about your own family—there is nothing like waking up Christmas morning in your own home. If you would really rather spend Christmas or Chanukah that way, set a boundary and stick to it!


Allow others to help
You absolutely do not have to do everything yourself! Look at your resources and consider opportunities to outsource things in order to enjoy the holiday season. If you're hosting a party. consider hiring a caterer or ordering some items from your neighborhood grocery store, and when your guests ask what they can bring – let them know them (they want to contribute). Consider hiring a neighborhood teenager to help with chores and odd jobs or to spend time with your children so you can get some shopping done. Let others help—you don't have to do it all!


Buy less
Regardless of the holiday that you celebrate, a lot of us can get carried away with shopping around the holidays. What if instead of a shopping frenzy, if everyone in the house receives 4 gifts (something they want, something they need, something to wear and something to read)? Less stress, less shopping, less cost, less waste, more fun!


Slow down
Slow down and experience the wonder of the season. a few hours with your spouse or close friends to just enjoy each other's company. Turn off the TV and read a book to your children or have a family game night. Sit down for a phone call with a loved one who lives far away. Sit in a circle and take turns opening one gift at a time. Spend time in prayer and meditation. Attend a service at your church, synagogue or mosque. Savor the moments and let the experiences replenish you.


Let go of perfection
We all know that perfection is an impossibility, yet so many of us still strive for it – especially during the holidays. What if, instead of perfection you focused on having fun and making memories with the people you love? It's unlikely that your family even notices some of the more subtle touches in your holiday preparations. Having more time to relax with some hot chocolate while watching the fire, or the Charlie Brown Christmas Special, is more important that having that perfect garland any day!


Take care of yourself
It is said that you can't take care of others properly if you aren't taking care of yourself, and this time of year in particular it's too easy to put our own needs on the back burner. Schedule time for yourself (a bath, a nap, a massage anyone?), eat properly, exercise, get plenty of sleep, and get regular chiropractic adjustments! Call us at our Scarborough, Maine office to schedule your initial consultation today (207) 883-5549.