by Oasis Wellness Partners on April 1, 2020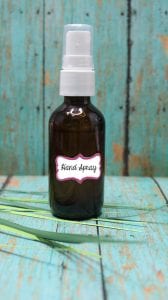 With the Coronavirus spreading across the globe, people are turning to hand sanitizers to keep their hands clean. However, most stores are sold out, and lots of us don't want to use industrial hand-sanitizer that is full of mystery chemicals anyway. Try making this non-toxic one instead!
This extra-strength hand sanitizer is easy to make. Hydrogen Peroxide and Alcohol have been proven to kill Coronavirus, and the essential oils are antimicrobial for even more protection against viruses. While nothing beats a good, 20 second hand-washing, this will do in a pinch or as an extra layer of protection. Enjoy!
Ingredients
2 oz. Amber Spray Bottles
4Tbsp Hydrogen Peroxide (3% solution) or Rubbing Alcohol
30drops Essential Oils (see below)
5drops Aloe Vera (optional, for moisture)
1cup distilled/purified water
Instructions
Combine all ingredients except water and mix well
Add water and mix well
Pour mixture into individual bottles
Shake well before using
Recipe Notes
Good Antimicrobial essential oils: oregano, tea tree, eucalyptus, and clove. Other good choices include citronella, geranium, lemongrass, orange, patchouli, and peppermint. Use tea tree sparingly, as some people can be sensitive to it.
This recipe stores well for a month- you can store extra in a jar in the fridge until you need to refill your spray bottle, or share it with your friends! To use: spray on hands 2-3 times and rub in for at least 30 seconds