by Oasis Wellness Partners on February 11, 2020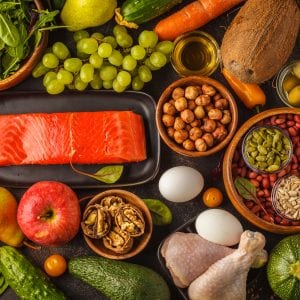 Ask the Chiropractor: I want to start eating more healthfully. Is the Paleo diet an ideal option for me?
This late Winter/Spring, we are going to be looking at a number of different types of diets to help our practice members (and others) learn about lots of different ways of eating out there, and learn more about what is safe, smart and best for their goals and overall health. While we aren't nutritionists, we do get questions about different diets, and we wanted to give a general run down. Just remember, before you start a new diet, please talk to your doctor to make sure it works for your body!
We will start with this great question! While the Paleo diet is not meant specifically for weight loss, many people achieve weight loss success on it for a number of reasons. Since the Paleo diet focuses on foods that our ancestors could have eaten, there is an focus on whole, protein-rich foods. It also eliminates processed foods which can help keep carbohydrate intake low. Together, all of these attributes can can make the Paleo diet ideal for safe, sustainable weight loss.
Increase in Protein
The Paleo diet tends to be higher in protein than other diets. The Paleo diet encourages quality protein consumption from meat, poultry, fish and eggs. Protein is an essential component of weight loss for its satiating power. It also promotes muscle growth and helps the body hold onto lean body mass when losing weight. Incorporating protein throughout the day can also help reduce food cravings. So try to add protein to each of your daily meals and snacks. For snacks, try adding 1 tablespoon of almond butter in addition to your mid-day apple, or 2 slices of almond cheese with your crackers.
Low-Carb Intake
The Paleo diet is lower in carbs becuase it eliminates grains, legumes, refined sugar and processed foods, which are all usually higher in carbs than proteins, fruit and vegetables. Paleo is a diet that focuses on quality ingredients, which lends itself to a lower carb diet. A low-carb eating pattern can often assist with weight loss because carbs hold onto water, therefore lowering the number of carbs you consume can also help shed water weight. Additionally, lessening your carb consumption can help eliminate excess calories from your diet. Though it's not always necessary to lower your carb intake to lose weight, it has been shown to help many people struggling with weight loss.
Real, Whole Food
Paleo's focus on real, whole foods often helps increase your fiber intake. Similar to fat and protein, fiber helps you feel full. Fiber can also slow down digestion and reduce your overall appetite, which can help with your weight loss efforts. [1]
Eliminate Processed Foods
In the Paleolithic era, processed foods were, of course, not available, so refined carbohydrates, refined sugars and many harmful oils are excluded from this diet. This is a real health benefit, since highly processed foods are high in calories but low in nutrients. When we fill up on highly processed foods, we don't get all the nutritional benefits whole foods offer. Processed foods tend to be primarily composed of simple carbohydrates that quickly break down which leads to rapid blood sugar spikes–these can contribute to cravings a couple of hours later. [2]
Dairy Intolerances & Hormones
Since our ancestors did not milk cows or other animals, the Paleo diet removes dairy. Studies have shown that conventional dairy, which uses hormones to encourage cows to produce more milk, can sometimes contribute to hormonal imbalances and digestive problems. Additionally, dairy can lead to excess gas because of the fermentation of lactose in the colon. However, the significance of the gas produced in the colon will vary from person to person. However, not everyone has issues digesting dairy products. For those who do not suffer from lactose intolerance, look for dairy that is organic, grass-fed and full-fat as this type of dairy will help ensure that you arent putting added hormones, antibiotics or other unnecessary ingredients into your body.
Who Should Not Do This Diet?
Because a Paleo diet relies on meat and fish for much of its protein-heavy focus, vegetarians will very likely not be able to meet their nutritional needs eating a Paleo diet. Also, anyone with a nut allergy could have a very hard time, because the Paleo diet relies on nut-milks, nut butters, and nuts to get a lot of its protein. That said, there is a nut-free variation of this diet, called the Auto-Immune Protocol Diet, which is a gut-healing, quite restrictive diet. Another consideration is that Paleo can be meat-heavy, which might not be ideal for people with cardiovascular disease or other heart-related issues. However, it can be a wonderful diet for people who need to nourish and heal their digestive systems and who have a lot of food allergies.[1]
If you want to start a Paleo or Auto-Immune Protocol diet, please talk with your health care provider to make sure that these ways of eating will be best for you and your health.
[1] https://ultimatepaleoguide.com/autoimmune-protocol/
Stuffed Butternut Squash
Course Dinner, Lunch, Main Dish
Cuisine Paleo
Total Time 1 hour 15 minutes
Servings 2
Calories 45 kcal
Ingredients
1 Butternut squash (large )
1 lb Sausage (casings removed)
1/2 Onion (diced)
1 Garlic clove (minced)
1/2 tsp Marjoram
1 tsp Fennel seed
2 Apples (peeled, cored and chopped)
Salt (to taste)
Black pepper (to taste)
1/4 cup Almonds (chopped)
Instructions
Preheat oven to 400 degrees F.
Cut the squash in half lengthwise and remove the seeds. Place the squash face side down on a foil lined baking sheet. Place in the oven and bake for 40-45 minutes, until the squash is fork tender.
While the squash is baking brown the sausage in a skillet over medium high heat, breaking it apart as you go. Add the onions and continue cooking until the onions are translucent, about 5-7 minutes.
Add the apples and cook for an additional 5 minutes.
Add the garlic, marjoram, and fennel seeds and cook for another 1-2 minutes, until fragrant. Season with salt and pepper to taste. Remove from the heat and set aside.
When the squash is done cooking remove from the oven. Turn the squash right side up and scoop out some of the insides, making a trough. Take the scooped out squash and stir it into the sausage mixture.
Spoon the sausage mixture into the butternut squash halves, dividing equally. Top with the chopped almonds.
Place the squash back in the oven and bake for an additional 15-20 minutes, until it begins to brown.
Remove from the oven and serve.
Nutrition Facts
Stuffed Butternut Squash
Amount Per Serving Calories 45