by Oasis Wellness Partners on July 5, 2022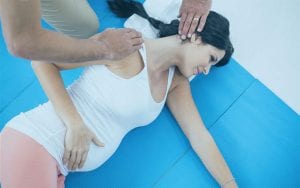 Chiropractic Care Makes For a Healthier Pregnancy
During pregnancy, the body undergoes a number of physical and hormonal changes that can result in spinal and pelvic misalignment. For example, hormone changes that loosen the ligaments in the mother's body to allow for the growth of a baby, combined with a lowered center of gravity and the baby's added and increasing weight can all create a lot of physical stress for the mother. Aside from being painful and generally uncomfortable, these misalignments can result in complications during delivery.
Prenatal Chiropractic Care is Safe for Baby and Mother
A chiropractor trained in prenatal chiropractic care will use a special pregnancy chiropractic table that accounts for the physical changes that occur during pregnancy. They will also know to adjust her while she lies on her side as an alternative to lying flat on her back. Gentle and effective chiropractic adjustments will allow for the mother's body to be in proper alignment to maximize health and wellbeing for her and her growing baby.
Benefits of Chiropractic Care During Pregnancy
While seeing a chiropractor can relieve pain, seeing a chiropractor during pregnancy can have these added benefits:
Help with morning sickness and nausea
Reduce amount of time spent in labor and delivery
Reduce neck pain, lower back pain and joint pain
Help prevent a C-section
Lower the risk of a pre-term delivery
Reduce need for pain medication during delivery and pregnancy
Faster recovery time
However, the two biggest benefits of prenatal chiropractic care focus on making delivery as easy for the mother as possible. These are restoring pelvic balance and increasing room for the baby in the womb.
Restoring Pelvic Balance
When pregnant, everything changes! From the way a woman walks to the way she sleeps, her body undergoes a total transformation. Chiropractic care will help with postural discomfort and adjust the body for optimal health and wellness by realigning the spine and restoring balance throughout the pelvis. Through these natural and safe methods, chiropractic care can relieve many of the aches and pains associated with pregnancy.
Increasing Space for the Baby to Grow
Any chiropractor with a Webster Certification has advance training in restoring pelvic balance during pregnancy and using pelvic balance to ensure the baby is in the optimal position for delivery.
When the pelvis is misaligned, it can hinder the space the baby has in the womb. This makes it harder for the baby to move into the desired position for delivery, affecting the mother's ability to have a natural birth. Chiropractic Care, however, can restore alignment so that the aby has room to move into the ideal position for birth when the time is right.
Chiropractic Care in Scarborough, Maine Can Improve Overall Health
Seeing a chiropractor regularly has several advantages that are only added to during pregnancy. Pregnant women can experience a lot of discomfort and worry about having a healthy delivery—having regular chiropractic care during pregnancy can make pregnancy a more enjoyable, less fearful experience for the mother and increase the chances that her delivery is the one she dreams of. Call the chiropractors at Chiropractic Family Wellness Center in Scarborough, Maine at (207)883-5549 to make an appointment for your evaluation.