by Oasis Wellness Partners on December 12, 2019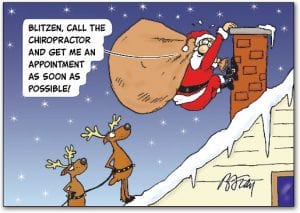 This time of year, people are busy. Busier than most other times of the year. Between regular life, add on holiday parties, gift shopping, end of semester school performances and events, and people can feel absolutely tapped out. We hear a lot of people say they don't have time to get adjusted right now—that they will get in after the holidays. But now is when you need it most! Here are our top 4 reasons to see us and get adjusted today:
Cold & Flu Season— Because the holiday season falls right in the middle of the cold and flu season, it's no wonder that our bodies are prone to getting sick with all we are asking of them. Did you know that keeping on top of your chiropractic adjustments can help your body fight off the winter cold and flu? Seeing your chiropractor allows your body to maintain healthier levels although you may be stuck indoors and your Vitamin D levels may decrease.​​
Stress—The holiday season can be one of the most stressful times of the year. We are trying to do more in less time, and our bodies often react to stress like tensing up, headaches, neck, and lower back pain. Allowing your chiropractor to adjust you and prevent your body from stress-related pain and suffering can make for a happier and healthier holiday season.
Travel– Travel is essential for many people during the holiday season. Between air travel and sitting in the car for hours, our backs and necks can take a beating. Planning to receive pre-travel and post-travel adjustments can keep you feeling and being your best all season long.
Weather-Related and Heavy Lifting Strains— Here in Maine, the roads and sidewalks can get icy. Even if we are being careful, we can wrench our backs more easily because we are cold and can be more stiff. Add carrying heavy packages around or carrying boxes to mail at the post office, mix in a dash of being in more of a hurry than usual, and there are a lot of ways we can hurt ourselves this time of year.
Chiropractic Family Wellness Center's recommendation? Breathe, slow down, and get adjusted! Regular chiropractic adjustments can keep your body and nervous system more flexible to deal gracefully with everything that comes your way. Give us a call today at our Scarborough, Maine office to make your appointment for a consultation—(207) 883-5549.