by Oasis Wellness Partners on August 6, 2019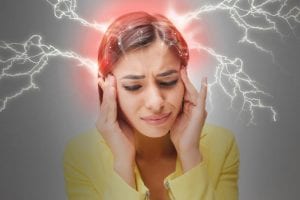 The odds are, you know more than one person that suffers from mirgaines. In fact, over 39 million people in the United States suffer from migraines. They are the third most common illness in the world and are extremely disabling. In the United States alone, 12% of the population suffers from migraines, and more than 90% of these sufferers cannot work or function normally during a migraine.
Many doctors prescribe medication to prevent migraines or treat the pain. However, the side effects of these medications can be debilitating as well, and include nausea, fatigue, and a rapid heartbeat. Fortunately, there are other forms of treatment available, many of which are not only effective but also improve the patient's overall health, with only good results!
Chiropractic Care
Regular chiropractic adjustments can offer relief from pain and tension from migraines. A scientific review evaluating migraines and chiropractic care found that regularly seeing a chiropractor was effective in treating migraines in 75% of subjects!.[1] The science points to chiropractic care as a very effective treatment for migraine pain.
When your spine is not properly aligned, the nerves running from your spinal cord out to the body can be affected. This can negatively impact your health in many ways, and migraines are just one of the possible results. Not dealing with the misalignments will never stop the pain from returning. The goal should not be only pain relief, but overall wellness!
Relaxation Techniques
Learning some easy ways to manage stress will help prevent migraines for two reasons. Firstly, high levels of stress cause muscle tension that can lead to migraines, so it's important to address tension before it causes pain. Keeping stress levels down is also helpful because relaxation from a heightened level of stress can trigger a migraine. Maintaining an even sense of calm will help on both ends of the stress spectrum. Some effective relaxation techniques are breathing exercises, guided imagery, meditation, and massage. We offer yoga, meditation and massage here at Oasis!
Come See Us in Scarborough, Maine
At Chiropractic Family Wellness Center, we offer effective chiropractic adjustments and also provide you with the knowledge you need to help you take charge of your health. Chiropractic, Yoga, Reflexology, Massage, Acupuncture, and EFT are all offered to provide you with the tools to live a healthy life. Call us to make an appointment today at (207) 883-5549.
[1] https://www.ncbi.nlm.nih.gov/pmc/articles/PMC3259914/