by Oasis Wellness Partners on February 5, 2019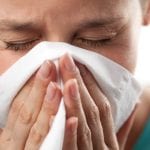 Ahhh, winter in Maine. The season of ice skating, sledding, snowshoeing—and the cold and flu! Do you wonder how you could protect yourself and your family from illness? The answer may surprise you. Chiropractic care has been proven to increase immunity!
"Neurologically-based chiropractic care is proven to boost your immune competence up to 400% according to a study conducted by Ronald Pero, Ph.D., chief of cancer prevention research at New York's Preventive Medicine Institute. Chiropractic patients had a 200% greater immune competence than those who did not receive chiropractic care and a 400% greater immune competence than those who had cancer or other diseases."[1]
How Does Chiropractic Boost Immunity?
Chiropractic's effect on the nervous system and the immune system's functioning are actually closely linked. Dysfunctions and subluxations found inside the body can create a weakened immune system that becomes susceptible to disease, such as recurrent cold and flu. By addressing these misalignments at their source, which is the nervous system, and aligning the body properly and consistently, chiropractic care is able to help strengthen your immune system to fight off cold, flu and other illnesses.
When subluxations are present in the body, then it is in jeopardy of being defenseless against the common cold and flu.
Boost Your Defenses and Immunity with Chiropractic Family Wellness Center
We practice neurologically-based, low-force, bio geometric chiropractic, which is centered on treating the nervous system as the root of disease. Because the nervous system controls every function of the body, including your immunity and defenses against illness, chiropractic care is a proven and safe way to boost your immunity, overall health and well-being all year round. When we treat you, we determine what is compromising your health and well-being and we focus on treating these misalignments and subluxations, allowing you to experience optimal health.
If you are struggling with recurring colds, flu and other illnesses, let us help you boost your immunity and start living the life you desire – one in which you feel your best!
[1] https://lesterchiropracticny.com/boosting-immunity/